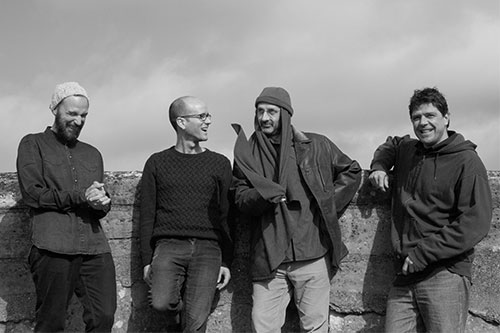 An extraordinary music journey with Jorge Rossy, Pierre Perchaud, Nico Moreaux, featuring Chris Cheek & Vincent Peirani.
Release Concert October 26, 2017.
Studio de l'Ermitage
Paris, FRANCE
Fox new album, "PELICAN BLUES" to be released on October 6 2017 on french label "Jazz & People". Pierre Perchaud, Nico Moreaux and Spanish drummer Jorge Rossy are joined this time by one of the most prestigious American saxophonist of the time, Chris Cheek.
The new album explores the french roots in the music of Louisiana, delivering an impressive blend of traditional music from the region with the innovative and organic sound of the European trio, Fox.
"This trio offers a beautiful and audacious purpose. Like this album." – Indispensable

– Jazz News
"« Une œuvre qui frappe par sa beauté alanguie, la clarté de son parti pris esthétique, loin de tout emphase, de toute virtuosité démonstrative. » * * * *"
Jazz Magazine
"Un nouveau signe de la belle santé du jeune jazz français. "
RTL
" Un trio de très haut vol, qui nous entraîne en douceur (mais sans résistance possible) vers les confins du bonheur musical. "
Dernières nouvelles du jazz
Current Release
Release Concert October 26, 2017.
Studio de l'Ermitage
Paris, FRANCE
Label: Jazz & People
PUBLICITY REQUESTS:
Marc Senechal:
Line up:
Fox+ feat. Chris Cheek :

Pierre Perchaud: Guitar
Nico Moreaux: Bass
Jorge Rossy: Drums
+ Chris Cheek : Sax
Fox Quintet:
Fox + feat. Vincent Peirani (ac)