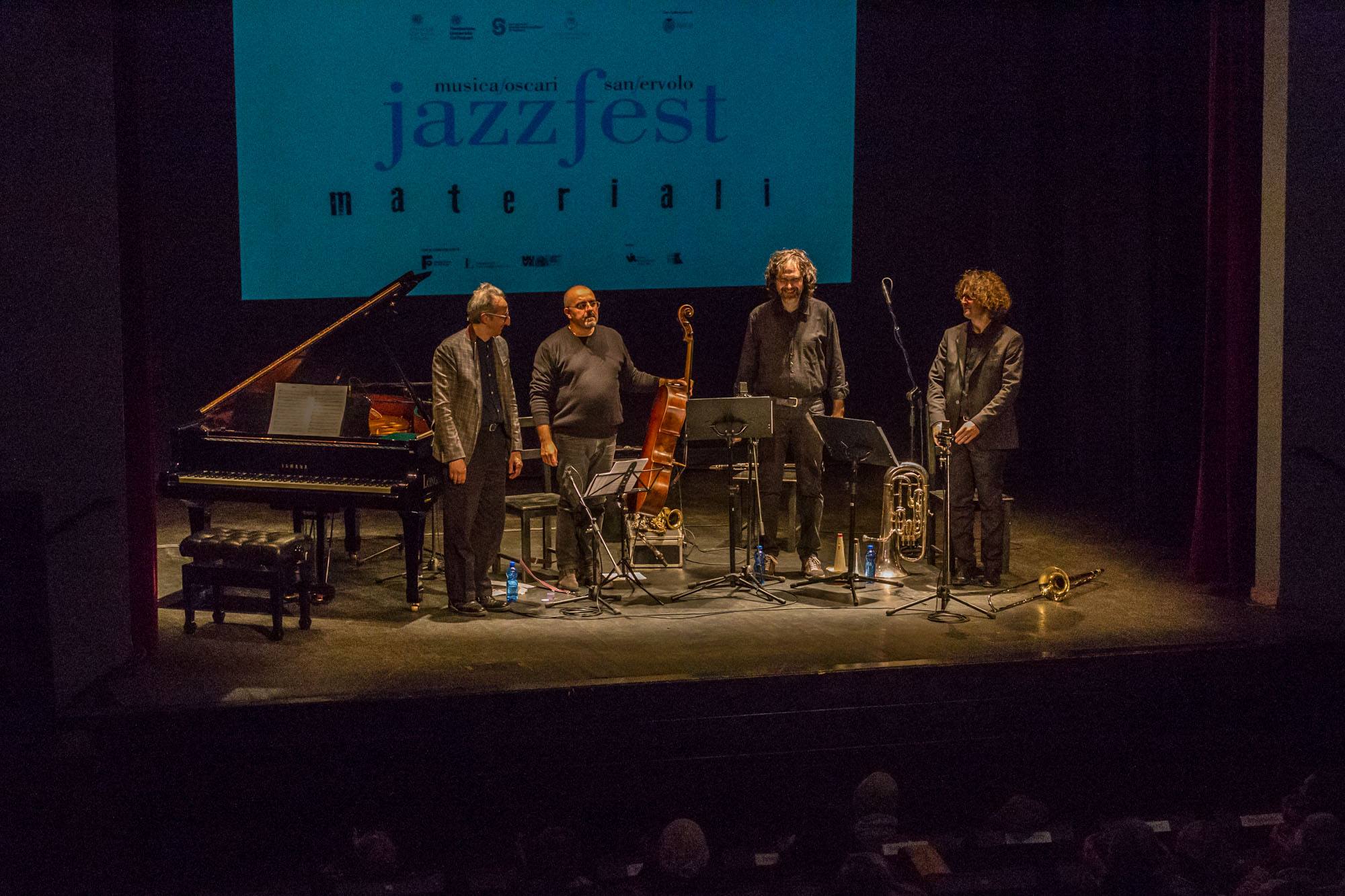 Moods come and go, mix and mingle, creating a music which is manic, lyric, quixotic, comic, lethargic, majestic and giddy.  
The Succi Culpo Ensemble is centered around the composing of its co-leaders, American Composer and pianist Christopher Culpo and Italian Saxophonist, Clarinetist and Jazz Composer Achille Succi.  Their works aim to move effortlessly between densely written, sparsely written, and freely improvised music. 
Every little phrase takes its shape within the musical dialogue.  The effect creates a shared storytelling that largely avoids the melodic language and narrative associated with contemporary jazz.
"Very cool modern set from the trio of multi-reedist Achille Succi, pianist Christopher Culpo, and tubist Giauco Benedetti. Strangely tuneful music that sounds perpetually to be coming apart at the seams."

– Dave Summer
Succi Culpo Ensemble Concerts TBA
Line up:
Christopher Culpo: Piano
Achille Succi: Saxophones
Salvatore Maiore: Cello
Massimo Morganti: Tuba & Trombone
Promo
Biography: Download (pdf)
Press Reviews: Download (pdf)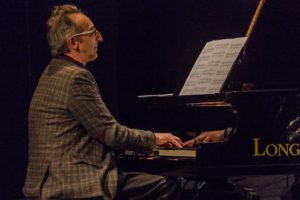 Rider
Succi Culpo Ensemble Rider: Download
CHRIS CULPO BIO
The music of Christopher Culpo is not easily categorized, and ranges through the world of clubs and concert halls, and theater and dance. As a performer on piano and composer across genres, Culpo lies at the confluence of contemporary jazz, free improvisation, and classical music. Born in Massachusetts, he has lived in France since 1991.
Recent activities as a performer include the following appearances: the Sydney Opera House and the Adelaide Cabaret Festival (Australia); the Cluny Festival (France); the Blossoms Festival (Belgium); Le Vie del Suono (Italy); the Radar Festival (Mexico City); The Fugard Festival (South Africa); The Old Town House and Bishops School (South Africa); Lugo Contemporanea (Italy); and, the Christchurch Festival (New Zealand).
Culpo works regularly as a soloist and with the Succi-Sikora Duo project with Catherine Sukora on saxophones. Culpo has recently released 2 cd's with Succi, the most recent Thawing Mammoth.
ACHILLE SUCCI
Achille Succi, has recently been singled out as "one of the European musicians to keep an eye on in the next ten years" (Bill Schoemaker, Giornale della musica, January 2010), while journalist Mario Gamba defines him as a "genius of italian Jazz" (Alias, March 20th, 2010).
Born in Modena, Italy, in 1971, he began self-taught and later won several scholarships that gave him the chance to study in some of the most important schools and workshops in the world (Berklee, D.Liebman masterclasses, Kopenhagen Rhythmic conservatory, Siena Jazz).
Among the many artists he has collaborated with are Uri Caine, Ralph Alessi, Sylvie Curvoisier, Steve Swell, Louis Sclavis, Ernst Reijseger, Pierre Dørge and Franco D'Andrea; he also took part in the recording of many CDs and performed all over the world.
As leader Achille Succi has recorded two CDs: "Shiva's dance" and "Terra", and a duo session with Bass player Salvatore Maiore: "Pequenas flores do inferno".
Together with Fabrizio Puglisi and Alberto Capelli he founded the "Atman" group, with two CDs released.
With pianist Christopher Culpo he just released "Fresh Frozen", for the "El Gallo Rojo" record label, featuring tuba player Oren Marshall.
Achille Succi teaches music ensemble in Nonantola (Modena) and holds improvisation workshops and masterclasses in several Italian cities. Since 2001 he has been a faculty member of famous summer workshop Siena Jazz, and recently taught at the In.Jam masterclasses; since 2006 he also teaches clarinet and improvisation techniques at the Ferrara, Bologna and Brescia Conservatory.
Book Succi Culpo Ensemble